Looking into other regions of Yunnan with hot springs, there remains the prefectures to the south (Pu'er, Xishuanbanna, Lincang) and southeast (Honghe and Wenshan).
Mountain Mussels

Though there is scientific credence (Xian Daxian, 1987) given to Pu'er prefecture having 17 (known) hot springs, the only hot spring mentioned is

Manzhongtian

hot spring which lies to the south(east?) of Pu'er prefecture's capital of Simao (Mayhew et. al., 2002).Further afield, to the west, is the county of Menglian which is home to

Mengmazhen

(Mengma or Mountain

Mussel [!]) hot spring

with temperatures varying from 26-54

℃

(

source

).

A picture here.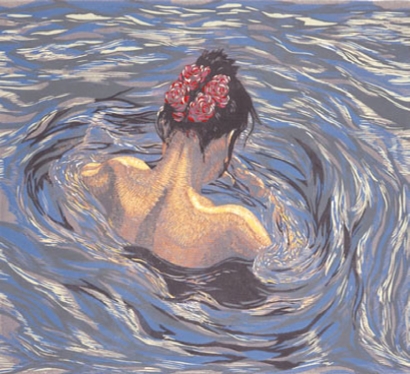 A painting by He Kun, native of Puer , entitled 'Hot Spring 3' (
source
).
Then there is a mention of
Lancang Lahu
Spa by
Deja Vu
and Jinggu county has a hot spring in

Fengshan

village
which doubles up with a local temple as the village's attractions (source). A picture can be found here.
So that's at least four soaking sites.
BBQ


Lincang prefecture is home to
Yuhengchang
Hot Spring hotel (
tripadviso
r).
The same source also mentions
Lincang Garden
Hot Spring hotel.

Elsewhere there was a mention

made of Fengqing county being geothermal rich.

A Chinese language
website
refers to

Zhenkang

county hot spring where you can 'barbeque' yourself, i.e. make your own sau

na.
Whether or not referring to one of the hot springs above (the respondent claims it to be Lincang) he/she notes:
'

In 2008, I stayed one day in Lincang. The city just had no big difference from any others in Yunnan. The runway airport was build in middle of a mountain. Probably the hot spring hotel outside the city is worthwhile to try, the water contains so rich minerals that feels like liquid soap. Just hope that they have fixed minor electricity leakage in the pool!'
This website once reported that Maolan, Yun county, had at least one hot spring
, with mentions of a temperature of 68℃. According to the same
source referred to originally,
Shuangjiang

county also has a hot spring with temperatures from 52-58
℃
. I mentioned it looked nice.
Then there's a
photo
on panaramio of

Yunxian

hot spring as well as Chinese language photoblog.
Another Yunxian hot spring. Reference adds:
'Just boiled eggs dipped in chili powder to eat'.
Most beautiful
Xishuangbanna is reputed to have more than 50 hot springs (
Xian
Daxian, 1987).
In the prefecture's capital of Jinghong is Dai Nam

(

source, see also their photo's), Nanni or

Gasa

(sandy street) hot spring (source) which is a large resort and is supposedly very clean and
'... there's an assortment of steaming hot pools you can soak in, each one with its own special fragrance (coffee, tea, rose petals, coconut milk, etc)' (source).
It's going

with the times, as can be witnessed by the availability of Dr. Fish treatment.
It's even
considered
as 1 of China's most beautiful places. The accompanying info is mostly gibberish, though it does mention that the hot spring is 5 km from Jinghong.
Tripadvisor notes Xiaojie county hot spring, Jinghong.

Minority
The autonomous prefecture (AP) of
Honghe
is famous for it's rice terraces (which have been bestowed World Heritage status) and are located
in
Yuanyang county. This centrally located county is believed to have 5 hot springs
(

Xian

Daxian, 1987)

; here at least a mention is made of
'To

Rie Shiu Tan

(??), 2.5hrs walk, an hot spring where you can cook yourself up!!'
Still, there are other more well-known hot springs in Ho

nghe. Mile county is home to

Mile

Hot Spring hotel. Tripadvisor alone has more than 50 reviews on this accommodation:
'

It is a vast modern complex. The hot springs were only partially open when we were there, however they still let all the 'day trippers' in which meant they was a heaving mass of people. We didn't see any westerners there (which is a plus point!)'.
Others mention that visitors should only stay here if they love hot springs as there is nothing else to do.
Buckchucko liked the stay and besides many photo's includes a little more on what to expect:
'

In the middle of nowhere stands ultra modern buildings, a 495 acre man made ecological lake preserve filled with clean clear spring water. Their showcase piece is the Huquan Resort and Spa smack dab in the middle of this preserve. Lagoons, sandy beach fronts, natural hot springs, and water activities showcase this resort complex. The resort is "set" in water so from your room it is as if you are virtually living in the lake. This 5 star complex is about as lavish as it gets'.
The acclaime

d
Hotspring Tours
s

ite adds this:
'Minority "fans" usually spend one or two nights in Mile when they head for Yuanyang to witness Hani Terraced Fields. Huquan Hotel is their favorite place to stay in since natural spring spa is available inside. Mile boasts rich geothermal resources. Its

Huquan Hotel

enjoys the highest popularity in Honghe (Red River) Prefecture for spring spas. It is a good place for recreation and relaxation'.
Eyebrow raising?


But none seem to match the fame or notoriety of

Mengla

hot spring, Jinping county. It's just how you look at it. Fame in the sense of the great amounts of links to this hot spring, notoriety as the local Dai people seem less concerned with adhering to the latest fashion whims.

Though some credence is given to the existence to
' "masseuse rocks" that knead muscles as you simply lie there',
it seems that most references are more interested in the supposedly outlandish habit of the locals, with special emphasis on the females. Thus it even makes China's
Top 10
hot springs!
Hotspring Tours
advocates a trip here thus:
'Men and women enjoying Naked Bath is a traditional custom of Dai people living in Jinping County, which makes Mengla Hotspring known to the outside world. Dai youth there take Naked Bath together while chitchatting in huddles. Sometimes they just immerse themselves in the pond, quite similar with swimming fish, a peculiar spotlighted view'.
Peculiar? Chitchatting in huddles? Naked bath together? No, I'm more interested in how they immerse themselves. This
reference
though avoids the hash:
'Yunnan, the indispensible China destination. Where karst towers draped in snarls of jungle jut out of tropical forests to stand as monuments lording over scenes from another planet. Awe-inspiring and oft photographed to be sure, Yunnan's got something for hot springs lovers too: the Jinping Mengla Hot Spring.




Issuing from the caves at 50-60 degrees centigrade, waters flush with curative elements run over colorful rocks. Visitors will find a host of curative natural effects, from bubbling waters to "masseuse rocks" that knead muscles as you simply lie there.




Immediate surroundings are well worth the time to explore too. The lush forests conceal ravines, waterfalls, mirror-like lakes and karst landforms under their canopies.




Accommodations can be found in the nearby town of Gejiu, 7 kilometers away. You'll find the four-star Century Plaza Gejiu ... comfortable, though the befuddled staff might leave you with a raised eyebrow or two'.
Like the way they finish that segment.





This Chinese

website

mentions that the hot spring has temperatures from 50-60

°C

and is indeed famous for skinny dipping (ethnically of course) locals. And another Chinese language

website describes it as
'paradise on earth: men and women bathing together',
though it also has this, not so often heard mantra:
'

These hot springs are open, no fences, no tickets'.
It comes complete with many a picture, including one of hungry male photographers!
Just an
example (sorry original link gone ...)
of mainstream (dim, but clear!) view of non-mainstream soakers:
'Here, a pool of men and women bathing together, without proof, without any obstructions apart. Bathed in the embrace of nature, like a naughty child fish prowling the pool, young men and women or small groups, side bath while engaged in small talk, or soft to the mental and physical immersion in water. Occasionally, the branch support folk songs accompanied by "rushing" sound of spring, a long time This is Dai among young men and women sing folk songs in a pool of love songs. It is said that the local guy a girl falling in love Dai spa night to "wash duck bath" practices'
Building bodies


Located nearly 40 km from Honghe's capital of Gejiu is
Yashadi
hot spring. And though the scenery is beautiful and the waters hot (90
°C
),
'

It merges tour, recreation and body-building into one whole'.
The aforementioned were a website now no longer existing. It is also praised Yashadi for it's many karaoke bars
. There's little more info here. Sometimes it is is also referred to as Jiasha hot spring, the name of the river nearby.
Matt Hartzell
:
'DSCN6968




scenery and multicolored pools at the hot springs in Gejiu, Yunnan, China'.
Wuzhe

hot spring is another Honghe AP hot spring, located in Luxi county. This

link

provides 2 pictures. Apparently it's up for sale on this

site

:
'

Wuzhe hot spring scenic spot was constructed in 1998. It occupies hot springs at 78°C at outlet, annaul hydraulic discharge 220,000 cubic meters. Because it contains many types of microelements and mineral compositions, it is appropriate for bathing'.
This website adds that there are deep-water swimming pools.

Less well known is

Meihua

hot spring which translates as plum hot spring. This

website

has some photo's which is in the west of Honghe

.

This link also recommends

Xiao Qin Tian

hot spring (in the northeast) and

Xiao Zhai

(or Small Village) hot spring.




Same same


Wenshan prefecture in the southeast of Yunnan gains less soaking attention apparently. Yunnanadventure.com does mention the

Baishapo (White Sand Slope)

hot spring, Guangnan county. Part of their description:
'

Besides the bathing pools with separate sections for men and women, there is also a new-built swimming pool in the open air which can be used by nearly one thousand people at the same time'.
[Updated January 2014]
Notes:
Mayhew, B., K. Miller, A. English

(2002) South-West China, 2nd edition. Lonely Planet, Melbourne, Australia.
Xian Daxian (1987) The distribution of hot springs and their features in Xishuang Banna and its adjacent areas. Yunnan Geology 1987, vol. 1. Kunming, China.