It's not often that I put in an update on this blog site. And well, actually i don't have much ...
Avid readers may have noticed a couple of updates in the last 4 months, especially concerning Bhutan, where the original article has been split into a hot stone bath section and the remainder still focussed on hot springs of Bhutan.
Other sections updated have been on Yunnan's Yuxi and South/East. While I have also redone the Kazakhstan, the Kyrgyz and India's Uttarakhand. Phew!
Here's a spin of some recent photo's and blog entries:
'they built the temple around a natural hot springs, made one room for women and one for men'
From Ava's Faux Toes Yamunotri (Uttarakhand, India) visit.
From Sikkim another mountain gem:
'Hot springs right next to the lake. #hotsprings #teesta #lake #west #sikkim'
Another entertaining blog entry on the hot springs of Bibi Fatima. Goatsonthroad:
'

The 5 of us jumped out of the car and were surprised at the amount of local people waiting in line. Women have a turn for 20 minutes, then, it's the men's turn for 20 minutes, alternating on and off every 20 minutes each and every day. Nick and Jason had their swimming shorts and Jess and I whipped out our bikinis.
Nurali sort of looked at us with the clothes in our hands but didn't say anything at first. Finally, I asked him if it's ok to wear a bikini (thinking maybe it was a bit too inappropriate for this part of the world). He said, "no, you wear nothing". Huh? Then he asked one of the Tajik women and she looked at me very confused and shook her head. Naked it was! I have to say, I've been in a bath house in Almaty, Kazakhstan and in a hammam in Istanbul, Turkey, but never have I been naked in a hot spring with strangers.




When it was our turn, Jess and I made our way into the hot springs with 5 other women. We were in awe of what we saw – not the naked bodies, but the actual hot spring! We stepped down about 10 stairs and found ourselves at the bottom of a cave. Around us were natural cave walls. The steaming hot water is constantly running through this cave, making it always very hot and always very clean. Because so much water is passing through, it makes a perfect pool for relaxing in.




This wasn't your ordinary hot spring though, Bibi Fatima is the place to go to boost fertility. No wonder there were so many women in line! Although I didn't want any help with my fertility levels, I went in anyways. The other women in there immediately took charge. There were many things I had to do in order to make sure I got the most out of my fertility boosting trip to the hot springs:


1. Drink the running water (I opted out of this);
2. Touch a particular part of the stone with my hands, then with my lips and then with my forehead;
3. Put water that had collected in a small pool over my eyes, three times;
4. There was a small cave within the cave that women believe looks like a womb. I had to climb up there (naked, don't forget), go inside, go under the hot water and pick up a handful of small stones;
5. Put the biggest, whitest stones I found under my tongue for the duration of the bathing;
6. Walk out of the hot springs backwards; and
7. Don't use a towel to dry off. Doing so would wipe away all of my fertility chances.
Bibi Fatima hot spring from soakingspirit:
'

Camping at a rural hot spring offers a relaxing combination of a hot bath and possibilities to cycle or walk in a typical rural Yunnan setting'.
'Hot spring along the Pudu river under an old footbridge'.
When winter comes, nothing is more relaxing than a hot spring bath. It is the perfect remedy for recharging your mind and body when the fierce cold overtakes you and diminishes your desire to step out of the warm house. This photo shows the Lianhuan Lake Hot Spring in Daqing City, northeast China's Heilongjiang Province. [Photo:China.org.cn]
source
Eastwards, from Bhutan, here's a blog entry on Gasa hot spring from the travels in Bhutan tumblr:
'

Trip to Gasa - March 29-31, 2013


I've been doing a poor job of keeping this blog updated (as evidenced from the date of the trip I'm only now getting around to write), so I'm sure a few details will escape my memory. Ah, well.

On Friday, March 29 we all piled in the tour bus to head to Gasa. It's a popular camping site, known especially for its healing hot springs. We intended to spend the weekend camping, hiking, and soaking in the baths. The weather was wet and rainy most of the time, but we didn't mind terribly. It made navigating slippery, muddy paths a little difficult (even more difficult when you're lugging packs and walking in the dark), and it meant that none of us had dry clothes by the time Sunday came around (most of us made the mistake of trying to dry our bathing suits and towels on the top of the tents, not realizing that it was going to downpour during the night and our things would get even more sodden). But we still had a fun time.


Friday was spent mostly traveling - we passed by Dochula (more on that in another post), a site with 108 chortens, or stupas. We drove past Punakha Dzong and took pictures. More on that later, too, since we got the chance to visit it over spring break.




Along the way, stopping for a bathroom break by the side of the road, Tsewang warned us against leeches. We were entering a wetter, almost sub-tropical climate, and it was a danger to watch out for. And he was right - almost immediately one of our group found a tiny leech, about the size of an inchworm, on his ankle.




We reached the campsite without too much fuss, though it was now dark outside and we had to walk the aforementioned muddy, slippery trail in pitch-black. We kept looking around at the dark on all sides and saying, "I'll bet this is a really beautiful view when you can see it." Luckily most of us had tiny flashlights on our phones, so we reached the campsite after about 30 minutes without too many fatalities.




The tents had already been set up for us, since Tsewang sent the crew ahead. And dinner was cooking. We put our things in the tents and had a candle-lit dinner in a mess tent. It might have been our appetites, or maybe the effect of eating outside among the elements, but most of us proclaimed it the 'best meal' we'd eaten so far in Bhutan. After dinner we put on our bathing suits and headed down to the hot springs to check them out.




There were three different enclosures, ranging in intensity of heat. Unknowingly we started with the coolest and easiest to acclimate to - it was about the temperature of warm bathwater, and felt really great after that stressful hike in the dark. The water comes in through a little wooden spout in the side, and drains out the opposite side through holes in the walls. The springs were all square, wooden buildings with a roof, but were still "open-air," and it felt really nice to alternate sitting on the side and feeling the cold night air with lowering into the steamy water. The springs are supposed to heal your ailments, and it's especially effective, we were told by other Bhutanese visitors, to take a drink directly from the spout - but of course, you need to drink an odd number of times, since odd numbers are more auspicious. (In fact, we were told to visit the springs an odd number of times, too. Three is a good number.)
One of the Bhutanese men in the springs engaged us in conversation and decided to take us under his wing by showing us around to the other two springs. He goaded us into participating in "challenges" to see who could stay in the water the longest (I won). He persuaded us to try the hottest spring, which none of us could handle for very long. It was hot enough that we felt sure we could have steeped tea in the bath.




After we'd had enough, we went back to the tents, which were surprisingly comfortable. On Saturday, we had a full day ahead of us: hiking up to Gasa Dzong. It was a fairly long hike, made more difficult by the fact that I'd done something to my knee (I think I popped my meniscus out of place, which made hiking painful). The views, as always, were incredible.




Gasa Dzong itself was a nice visit, and was my favorite Dzong until I stepped inside Punakha Dzong later. It had several levels, with green things growing on the stone walls, and went almost straight up inside the enclosure like a big castle. The monks were just starting lunch when we arrived, and so we saw them all congregate and watch us curiously when we went inside. We watched them just as curiously, and were all tickled when we saw them hanging out on one of the roofs.




After Gasa Dzong, we headed back to the campsite and made it in time for lunch, after which we took another dip in the springs while others explored the nearby river. The afternoon was spent leisurely. At dinner, we managed to get a lot of interesting, funny stories from our Professor about his worldly travels (he's an anthropologist who has focused his research on Nepal). After the adults left, we started telling spooky stories (surprisingly effective for frightening even the most resilient among us. It's hard to stay stoic in a mess tent when the dark is pressing up on all sides and you can barely see the people sitting across the table), and then embarrassing stories, and THEN we achieved the pinnacle of embarrassing stories when an embarrassing incident happened right in front of us as one of the girls in the group suddenly jumped up hollering, "There's a leech on my butt!" and pulled her pants down in front of all of us so we could help her remove it. After that point we decided we couldn't get more embarrassing than that, so we got into our bathing suits and went back into the hot springs.




Sunday was relatively uneventful, since it was another day of traveling. And that was our trip to Gasa.
And then to cap it off, just another recent picca on a hot stone bath of Bhutan. Note that this posting is slowly becoming one of the most sought after, wonder why?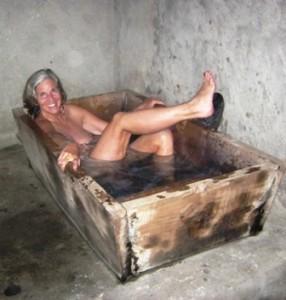 'Did I mention the hot stone bath?'