Ждём лётной погоды! Waiting for helicopter!
On Kamchatka peninsula, Russia. Source
Development related news for parts of the region.
As of yet there are no mentions made of changes in Nepal's hot springs due to the recent devastating seismic activities.
It can be expected. I did hear that bear the epicenter of the first earthquake, some of the natural springs had discontinued.
Jhinu hot spring still in working condition, source.
Meanwhile there's no end in sight to China's thirst for upscale soaking. The most recent addition comes from Sheraton who are opening another hot spring related hotel in Yunnan (travelmedia.com, Jan. 3):
'Located close to the borders with Myanmar and Laos, Sheraton Xishuangbanna Hotel offers 326 rooms and suites, all equipped with balconies offering views of the surrounding forest.




Facilities include three restaurants (international, Chinese and Thai), a lobby bar, indoor and outdoor heated swimming pools, a business centre, fitness centre, spa and its own on-site hot springs, with six indoor and outdoor sulphur pools.




...




Guests can choose to soak in the hot springs, explore the rainforest, immerse themselves in the local cultures and customs of Dai minority groups residing near the hotel, or take a bike ride to see the millennium-old Pu'er tree," said the hotel's general manager, Damian Chua'.
Elsewhere in Yunnan I recently came across this
while doing research for this blog. It's another of those some weird and strange pictures. The following comes from the Yongning hot spring, northern Yunnan and what's happening here?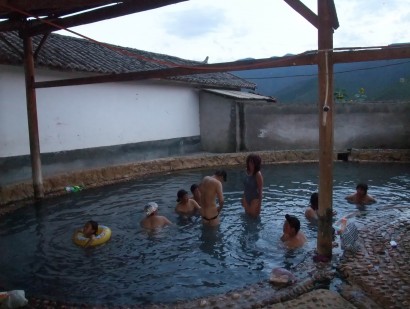 The new one where we went has a collective basin share in two parts one for women one for men, just separated by an enormous wooden beam,. It's open air so it is very pleasant.
When we ask to go to the collective bath the owner is surprised and refuses by saying to us "lao bai xin" what wants to say "common people" what in his eyes we are not!
The caption makes nothing clearer, but it certainly looks like the tourist is the odd one out for a change ...
Basking
A recent article on research as towards soaking on Sakhlain and Kuril islands, (far eastern Russia) has concluded that there's a lot of good in soaking, but enthusiasm needs to be tempered, this is still an area nearly dropped off the map ...
But not for the soaking enthusiasts in the accompanying photo:
That said, below a what older photo from a Kamchatka expedition (source), mental and social health is certainly OK, don't know about the smoking. Caption reads translated as :
Bath

of natural origin.

In

this cup

flows over

a rock

hot water

, so

you can

bask

in

even

severe frost

.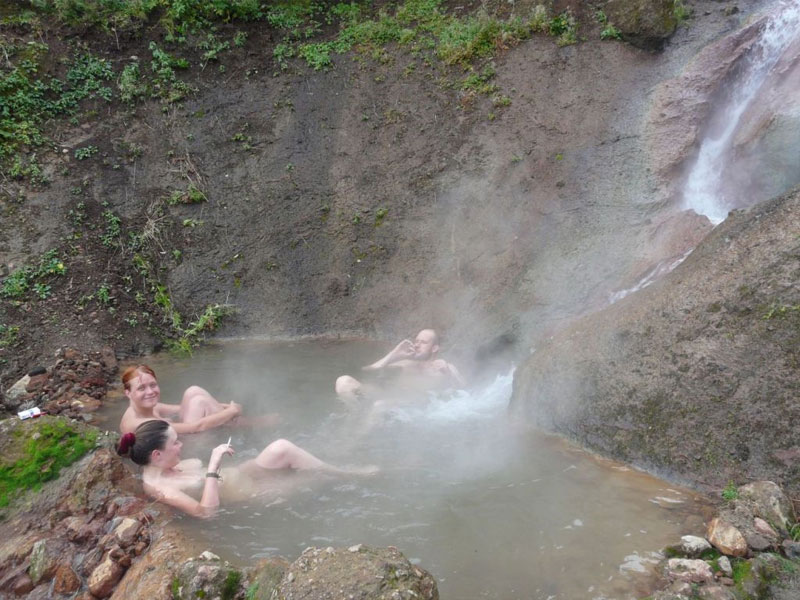 Ванна естественного происхождения. В эту чашу стекает по скале горячая вода, так что нежиться здесь можно даже в лютые морозы.
Strange
An article (Tribune, Apr. 9) on Chitral hot spring, Lotkoh valley in Pakistan:
'Many find the water too hot to even touch, let alone take a dip in. As a solution, locals have built public bathrooms within the vicinity where the spring water can be mixed with cooler water, said another visitor, Mohammad Jamil. "People bathe using this water for five to 10 minutes and then sit for the next 10 to 30 minutes in a warm room as it is advised not to step out in the open immediately."




People who have indulged say they feel "fresh" afterward; some go as far as saying the water has magical characteristics which has relieved them from fatigue'.
A blog article on Maharashtra's hot springs with this photo:
The pond for men...
It describes stumbling on this hot spring:
'We were in for a complete surprise when we reached the small village which housed the lake. In fact, there was no lake at all. However, what we discovered was this lovely hot water spring called Rajvade. An old woman from the village saw us as two lost wanderers and decided to take us around to the our destination. She spoke only Marathi and we spoke none, so our conversations were fun; all she could figure out was that we were strange people from Pune :)'
Finally, recent unrest in Tibet explained (Tibet Post, May 5) as locals of Awong (Gonjo county) oppose developing a hot spring. Amongst their other complaints that is, as the development of a hot spring is lead to believe to be a pretext for mining a sacred mountain..
"On April 2nd, the local government told all the people of the village that there were plans to convert the natural geyser water near the mountain into hot spring baths," the sources told the TPI.

"Locals agreed to the plan, understanding that the project could attract many tourists and generate income," the sources also said, speaking on condition of anonymity.

Many locals were injured in the struggle, many of which refused treatment from the government hospital, instead going to private hospitals'.
Back to India, recent news is that the country is in the grips of a heatwave; not so for these fellas:
Wash your spirit clean in a warm bathing pool at Kheer Ganga. #hotsprings #holy #religion #mountains #snow #winter #himachalpradesh #himachal #india #kullu #parvativalley #kheerganga #water #instatravel #love #nature #beautiful #instaindia #spirit #wanderlust #wanderer #outdoors #explore #travel